Join us on Facebook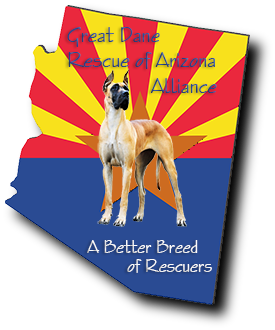 Bloat is a Dane's worst enemy. Please be sure to feed your Dane 2-3 times a day with smaller meals instead of one large meal per day. Give them plenty of water. And please make sure that they rest a full hour before and after their meal. No active play sessions, romps in the yard, walks, or things that might cause them undue stress. They can certainly go outside to use the restroom, but other than that, it's best for them to lie down and relax.

Your Dane may be suffering from bloat if his/her stomach looks swollen, the dog keeps trying to belch or vomit unsuccessfully, there's excessive salivation, shortness of breath, cold body temperature, pale gums, rapid heartbeat, or if the Dane collapses.

If your Dane displays any of the following symptoms, or especially several of these, take your dog to the vet IMMEDIATELY - their life is in danger. Early detection and medical attention is their only chance to survive.

(This Dane demonstrates the proper before/after meal posture)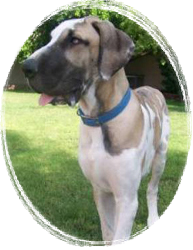 Valley Fever (VF) has become a serious health concern for pets over the past 15 years due to the population growth & development in AZ. VF is NOT contagious. It is a fungal spore in our soil. Our vets have seen an alarming increase of cases in their practices.

Your dog could be at risk if you show your dog or travel through an area where VF is prevalent, including California, New Mexico, Texas, Southern tip of Nevada, and Arizona. The risk arises when you return home and your local vet is not experienced enough with VF for proper diagnosis. This can lead to your dog's illness being misdiagnosed, leading to your Dane getting sicker or even dying before proper treatment is administered.

In most cases, VF is treatable, but it needs a proper diagnosis so the right medicine can be dispensed. Please take the time to thoroughly research information about VF. This way if your dog is affected, you will know what to do and what questions to ask your vet.

The site below is a good starting point to learning more about VF:
http://www.vfce.arizona.edu/valleyfeverinpets/default.aspx
General Appearance of a Great Dane

The Great Dane's regal appearance combines dignity, elegance and strength with a large, well-formed, powerful, smoothly muscled body. It is one of the giant working breeds, but is unique in that its general conformation must be so well balanced that it never appears clumsy, and should move with a long reach and a powerful drive. A Great Dane must be spirited and courageous, never timid, always friendly and dependable. This combination of physical and mental characteristics gives the Great Dane the majesty possessed by no other breed.


(Please note that we are not affiliated with the following organizations and are not responsible for the content of their websites.)