Join us on Facebook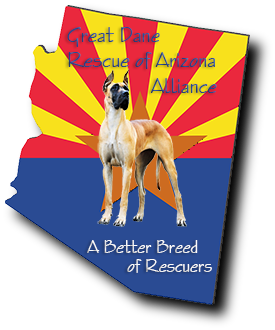 May 2014

Tiara was on her way to the Alliance's headquarters when she made a detour to her new forever home. The transporter instantly fell in love with this beautiful girl and adopted her right away.
February 2013

Molly was adopted in February 2013. Now living the good life on a 4 acre ranch in Northern Arizona with a veterinary technician as a mom.
October 2005

Cleo (formerly Kirby): Gotcha day 10/15/2005 at 5 months old. Now (Jan. 2016) Cleo is 10 years, 8 months!
This pic is within her first few days
after adopted
Cleo's 10th birthday - May 2015
December 2013

Poppy and Pandora was adopted in December 2015
November 2015

Nika (formerly Echo) was adopted in November 2015
July 2015

Elsa was adopted on July 31, 2015
If you adopted a Dane from the Alliance and would like him/her added to our Photo Gallery,
send us an email with a Photo of your Dane, the Dane's Name, and when you adopted (or post the photo on our Facebook Page).
April 2015

Penny (Amber) was adopted April 2015
2014

Tara and Sascha was adopted in 2014.
Both are waiting for some peanut snacks